OUR BEST TEAM
Gardner Lee, Financial Advisor, CMFC®, IAR
GARDNER resides in Overland Park, KS, with his wife Joi. They have just recently celebrated their 39th wedding anniversary. Together, Joi and Gardner have raised three beautiful children in the Olathe & Overland Park area. They are now known as Papa and Gigi to 8 wonderful grandchildren.
Gardner grew up in Northwest Arkansas and graduated from the University of Arkansas located in Fayetteville.
After Graduating they moved their family to Topeka, KS in 1987 where they lived for nearly 10 years before moving to Olathe in 1996 where all three children went to the Olathe schools and graduated from Olathe East High School.
Gardner was motivated to make a career change and became a full-time Financial Advisor in 1999. He started his career with well- known national company that is based in Overland Park, where he worked as a financial advisor and was promoted to District Supervisor and eventually District Manager. This experience allowed him to continue to build his practice and at the same time mentor and train new financial advisors in the company. At one point he was leading a team and continuing to grow his business simultaneously. Based on a desire to have more flexibility in his practice, Gardner left the company and started his own practice, Best Financial Services, in 2006.
Gardner has a passion for teaching and has been doing comprehensive financial planning since the beginning of his professional career and now specializes in investment planning and management including mutual funds, exchange traded funds (ETF's), and individual stocks and other types of investments.
Gardner and Joi are members of Legacy Christian Church in Overland Park, KS. In his leisure time he enjoys playing tennis, being with family and watching his beautiful grandchildren play!
Licenses and Designations: Registered as a Series 7 and Series 66 investments professional and also is insurance licensed in Life, Accident, Health, and Variables. He is also an (IAR)-Investment Advisor Representative and an (RR)- Registered Representative in good standing. I have also obtained and held since 2002 the CMFC designation from the College of Financial Planning. CMFC (Chartered Mutual Fund Counselor) is a specialty designation concerning the study of Mutual Funds and their uses in the investment planning and strategies.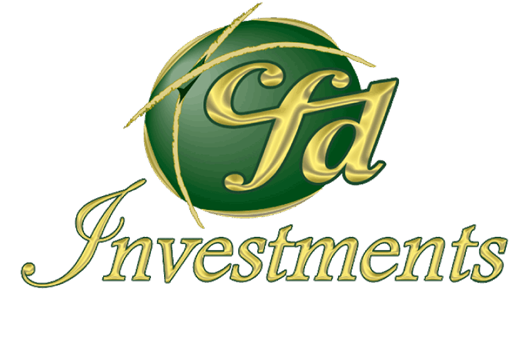 About CFD Investments
CFD Investments is one of the leading financial services companies and independent broker/dealers in the nation. For more than three decades, the firm has served as an enabling partner, supporting financial advisors in their goals of protecting and growing their clients' wealth. A chief objective of CFD Investments is to reduce the complexity of running a financial services practice so advisors can focus on what they do best, help their clients attain their financial goals and fulfill their dreams.
With a centrally located headquarters, CFD Investments supports financial advisors in helping their clients by offering a robust mix of services and tools such as:
Enabling technology

Comprehensive compliance services

Practice management programs and training

Independent research
CFD Investments understands that providing Americans with unbiased investment advice is critical to their financial security. Because the firm has no proprietary products to sell, CFD Investments advisors can provide truly objective, conflict-free advice and investment recommendations.
Hundreds of finanial advisors nationwide rely on CFD Investments to help meet their clients' financial needs. They do so by using the firm's tools and resources that help them discover their clients' priorities, dreams, and passions; analyze and develop financial plans that support every stage of their clients' lives; and make suitable recommendations that put clients on the path to pursuing their goals.
For more information about CFD Investments, visit cfd Investments.
Ash Brokerage is an insurance Brokerage General Agency (BGA). No, that doesn't mean we trade stocks and bonds on Wall Street. We work with financial professionals who are certified to sell insurance, such as licensed advisors, financial planners or registered investment advisors. Those advisors come to us with the information about their clients; we do all the processing and leverage our relationships with the companies in order to find the product that best fits your needs. Basically, we represent more than 80 insurance companies, rather than just one. Each company has products with unique options and requirements, so how do you know which is the best for you? That's where we come in.
Thank you for your interest in BEST FINANCIAL SERVICES. Please take a moment to send us your information and you will be contacted shortly to schedule a FREE 20 minute consultation.